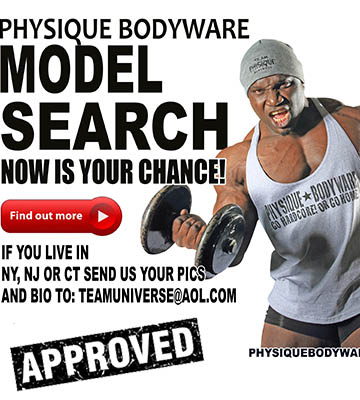 Guy's if you're aged between 21-45 and would like to be considered, get in touch with us Now! This is a great opportunity for ANY-BODY who loves bodybuilding, cross fit, health and fitness. Physique Bodyware recently began work on their newest Product Line filled with tons of new styles, colors and fabrics and we're in search of aspiring bodybuilders, fitness athletes and gym rats to represent our brand of bodybuilding apparel, street wear and workout clothes. No experience necessary, as long as you're confident and in great shape,  you could be the next face of Physique Bodyware to represent our brand worldwide! Physique Bodyware is a well established brand, and clothing manufacturer made in America, we've been around since 1990 and have featured some of the best Physiques on the planet wearing our gear!
We are especially looking for male athletes from New York, New Jersey and Connecticut. Guy's aged between 21-45 located in the Tri-State area should apply now! This is your chance to grace the pages of the Physique Bodyware brand web sites and print advertising as featured in the pages of today's best selling fitness magazines. BONUS! When casting for TV & Commercial work, Physique Bodyware is contacted by network talent scouts, Movie scouts, TV shows and modeling agencies looking for talent.  YOU could get the call?
How do I enter? It's easy. No Professional pictures needed just take a few Selfies.  Email us with a little BIO along with some details, e.g. Name, Height, Age, State, Weight, contact number etc.  Already a customer? Wearing Physique Bodyware can't hurt!  CLICK TO EMAIL YOUR PICTURES  Remember, we want to see you at your very best!  Production begins soon.  With too many names to mention, Physique Bodyware has helped launch many careers since 1990. EXPOSURE!  Through our various online sales  platforms, social media channels, and online advertising, our Athletes/Models are seen by millions across the globe in print, yes people still read magazines. They inspire others to peruse careers in health, bodybuilding and fitness.  Talent scouts as well as charity associations scour our brand for talent.  We look forward to hearing from you. Good luck!