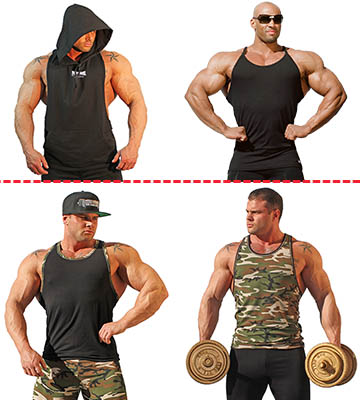 Clearance: Big Tops, Hoodies and Tank Tops. Blowout SALE prices! Assorted styles.
$11.95 – $21.95
-

77

%

Off
Assorted clearance gym gear.  Great fitting styles for bodybuilders and elite athletes at clearance rack prices including: Y back tank tops, gym hoodies, big tops and more.  Featuring the perfect gear for any workout. Soft-touch fabrics. These are great styles, built to make you look, feel and train better for a lot less money.  These have slight defects but hey, you're just going to kill it the gym anyway now you'll have one less thing to worry about, your gear.  Some have slight defects, maybe missing labels, small spots most are easy fixes. Made in America. Final sale  Order now!
Description
Men's clearance rack gear.  Some styles maybe missing labels or may have a spot. Many are easy fixes.
Additional information
| | |
| --- | --- |
| Color | 5 PACK ASSORTED COLORS/1008, 725/Tank Top, Army Green/995 hoodie, Black, Black Hoodie Stringer/1014, Black Hoodie/993, Black Stringer Hoodie/995, Black/777 Y back hoodie, Black/790, Black/904, Black/998 Posing Suit, Black/Cali Blue/1014, Black/Camo/1003, Black/Camo/1007, Black/Camo/1010, Black/Grey/1005, Black/Grey/1008, Blue Camo Y Back Tank/1016, Camo/1009, Camouflage BEAST/1012, Camouflage/1000, Camouflage/1006, Camouflage/1013, Camouflage/765, Camouflage/990, Grey Hoodie/994, Grey Y Back Hoodie/995, Grey/1001, Grey/711 Hoodie/Small Spot, Grey/711 Monster Hoodie/Size M/L, Grey/725, Grey/904, Grey/992, Navy Blue/790, Neon Lime/725, Neon Orange/725, Neon Pink, Neon Pink/725 tank top, Oatmeal Monster Hoodie/711/M/L, Orange Crush/725, Watermelon, Watermelon/725 tank top, White #ONEMOREREP Tank Top/778, White Hoodie Stringer/1014 sample, White Stringer Hoodie/995, White/#RESPECT Tank Top/999, White/777 Y back hoodie, White/Black 959, White/Black 959 Big top, White/Y back hoodie |
| TEST | TEST |