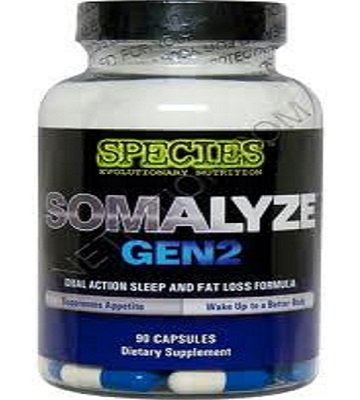 Species Nutrition Somalyze Gen2. Nighttime Fat Burner/Sleep Aid–90 Gelatin Capsules-Physique Bodyware
Out of Stock
SOMALYZE GEN2 Nighttime Fat Burner/Sleep Aid SOMALYZE GEN2 is a non-stimulant based fat burner that, simultaneously, functions as a sleep aid. The following paragraphs describe the unique blend of ingredients in SOMALYZE and the complex mechanisms of how they function to metabolize fat while you sleep.
Oleoylethanolamide (OEA)
OEA is is an endogenous peroxisome proliferator-activated receptor alpha (PPAR-á) agonist synthesized in the intestines. PPAR-á is highly expressed in muscle, the liver, kidneys, and heart and is involved in the regulation of lipid metabolism, specifically the transcription of the genes involved in the beta-oxidation (burning) of fatty acids and lipogenesis (storage of fatty acids).
OEA has also been shown to have anorexic properties, meaning it decreases food intake and sends hunger-curbing messages to the brain.
If all that weren't enough, OEA can also lower lower blood cholesterol and triglyceride levels.
PROPIONYL L-CARNITINE:
Inside the cell, L-carnitine transports long chain fats into the mitochondria (energy-producing chamber) where they are then oxidized into ATP. In theory, if we can increase the amount of L-carnitine within the muscle, we can theoretically increase the quantity of fatty acids that get oxidized. Until recently the problem has been that regular L-carnitine and even the more exotic acetyl-L-carnitine lacked the ability to penetrate skeletal muscle tissue (which is where most fat oxidation occurs).
On the other hand, Propionyl-L-carnitine, a relatively new version of L-carnitine, has important effects on skeletal and cardiac muscle. Back in 1990, a human study demonstrated that propionyl-L-carnitine could combat the destructive effects of low oxygen status and muscle fatigue in heart and skeletal muscle. More relevant to our discussion is the fact that propionyl-L-carnitine has a tremendous ability to penetrate skeletal muscle and thus facilitate the transport of long chain fatty acids into the mitochondria.
GAMMA AMINOBUTYRIC ACID
GABA (Gamma Aminobutyric Acid) is an amino acid-derived neurotransmitter – a chemical that transmits messages between nerve cells – that's found predominantly in the hypothalamus of the brain. This is an important fact since the hypothalamus is located in a region of the brain (posterior lobe) that's responsible for visceral functions such as sleep cycles, body temperature and the activity of the pituitary gland.
The pituitary gland is the master endocrine gland affecting all hormonal functions of the body. Numerous studies have shown that as GABA levels increase in this posterior region of the brain, plasma growth hormone (GH) levels also increase. This is significant for the athlete since GH dramatically mobilizes fat and rebuilds damaged muscle tissue.
GABA also has a slight relaxing or sedative effect on the body which makes it ideal for use at bedtime. Many people report improved sleep patterns and a well rested feeling upon arising. Colorful and somewhat lucid dreams are also frequently reported. Remember, as your quality of sleep increases, your ability to recover from stress and strenuous exercise also increases. Recent research has also demonstrated that well-rested individuals have much higher levels of appetite-suppressing leptins in the body the more you sleep, the less you'll feel like eating.
Aside from the positive effects of burning stored body fat and getting a restful night sleep, individuals may experience some of GABAs other unique qualities. Some people report a skin surface tingling sensation for a few minutes after taking GABA. This is not uncommon and can be likened to a niacin "flush". Some also report a slight shortness of breath for a few minutes after taking GABA. This also is not uncommon and is nothing that is of serious concern.
MELATONIN
The pineal gland (located in the brain) synthesizes and secretes the hormone, melatonin a structurally simple hormone that communicates information about environmental lighting to various parts of the body and then establishes specific circadian rhythms that inform the body whether it is day or night. This light-transducing ability of the pineal gland has led some to call the pineal gland the third eye.
Normally in the body, the timing of melatonin secretion is controlled by neural pathways that run from the retina of the eye to the hypothalamus and from the hypothalamus to the pineal gland. Interestingly, it's the suprachiasmatic nucleus of the hypothalamus that controls bodily circadian cycles such as core body temperature, cortisol secretion, sleepiness, and melatonin secretion.
Melatonin preserves mitochondrial homeostasis, reduces free radical generation and maintains ATP synthesis by stimulating electron flow through complex I and IV of the electron transport chain, even in the presence of uncoupling agents such as Usnic Acid and DNP.
When taken in supplement form, melatonin appears to be remarkably safe. Because of this fact, it's been used for years in the treatment of certain sleep and mood disorders. One rather common condition that involves the disruption of natural circadian rhythms is "jet lag". When traveling across time zones, it's been repeatedly demonstrated that ingestion of melatonin close to the target bedtime of the visited location significantly alleviates most symptoms of "jet lag".
Once again, a restful night sleep significantly increases the body's ability to repair itself and more sleep translates to less hunger. Finally, don't be surprised if you experience vivid, colorful, dreams while taking SOMALYZE.
PHOSPHATIDYLCHOLINE (PC) and PHOSPHATIDYLETHANOLAMINE (PE) Phosphatidylcholine and Phosphatidylethanolamine have been shown to reduce elevations of stress hormones such as ACTH and cortisol that are associated with strenuous exercise. This is an extremely important finding, since age-related increases in the cortisol/DHEA ratio are a significant biomarker of aging. This changing ratio increased cortisol and decreased DHEA reflects the toxic effects on the body to prolonged increases in cortisol levels (hypercortisolemia). These effects can ultimately manifest as the "Cushingoid" appearance (bloated face, fat stomach, and soft look) of many people over the age of 50. Consequently, many studies have demonstrated that the cortisol-blocking effects of phosphatidylcholine and phosphatidylethanolamine may profoundly delay these adverse effects of aging.
Remember, whenever we exercise, the trauma of the workout creates stress in the body. In response, the adrenal glands release tons of the stress hormone, cortisol. Cortisol is a catabolic hormone that breaks down muscle, suppresses the immune system and precipitates the storage of ugly abdominal fat. Phosphatidylcholine and phosphatidylethanolamine can blunt this cortisol releasing effect to exercise and thus greatly enhance the body's ability to repair itself and to suppress the accumulation of annoying body fat.
Take 3 capsules 60 minutes prior to bedtime (with or without food). Supplement Facts Serving Size: 3 Capsules Servings per Container: 30 Amount Per Serving % Daily Value GABA 2000 mg * Propionyl L-Carnitine 500 mg * Phosphatidyl Choline 150 mg * Oleoylethanolamide Oleic Acid 50% 50 mg * Melatonin 3 mg * *Daily value not established. Other Ingredients: Magnesium stearate, rice flour, and gelatin capsule.
Disclaimer These statements have not been evaluated by the FDA. These products are not intended to diagnose, treat, cure, or prevent any disease.
Unfortunately, this product is out of stock. We make our workout clothing in America so please check back often to see when this product's stock might be filled.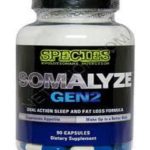 Species Nutrition Somalyze Gen2. Nighttime Fat Burner/Sleep Aid--90 Gelatin Capsules-Physique Bodyware