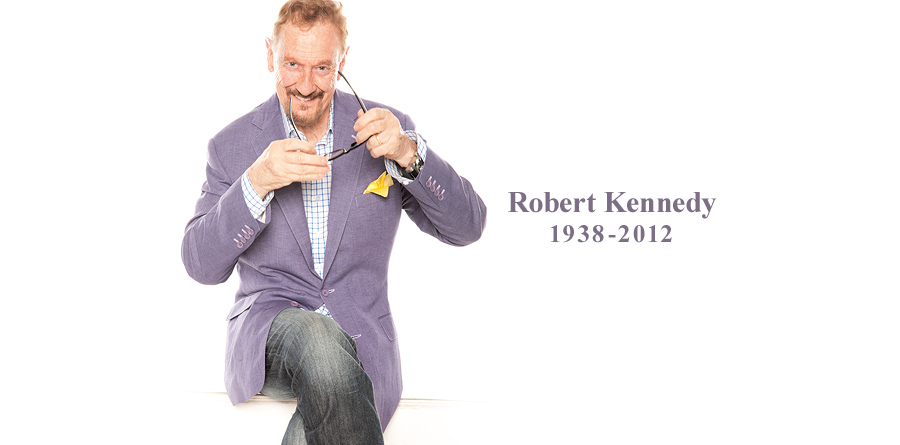 As the leading online publisher of fitness content, Physique Bodyware owes an enormous debt to those who blazed the trail in print publishing. Few publishers cut a wider swath, or did it with more style and grace, than Robert Kennedy, who passed away at home on the evening of April 12 at the age of 73.
We extend our heartfelt condolences to Bob's wife, Tosca Reno, and their four daughters, as well as to his fitness family at Robert Kennedy Publishing. As a tribute, we'd like to share their remembrance of the man who led and inspired millions of bodybuilding and fitness enthusiasts worldwide.
Robert Kennedy (1938-2012)
It is with great sadness that we, the staff of Robert Kennedy Publishing in Mississauga, Ontario, announce the passing of Robert Kennedy, our company's founder.
Bob passed on April 12 at home from complications stemming from cancer. He was 73 years old. Bob was surrounded by family and friends. He is survived by his beloved wife, Tosca Reno and their four daughters: Chelsea Kennedy, Rachel Corradetti, Kiersten Corradetti and Kelsey-Lynn Corradetti. Bob's only son Braden Robert James Kennedy passed away last year due to pneumonia complications at the age of 23.
Bob leaves behind a legacy as a pioneer in the field of bodybuilding and physical wellness.
He was born in 1938, the son of an Austrian father and an English mother, both school teachers. He attended Culford private school and Norwich art school in Norfolk, England. Bob was, by his own self-admission, a slender lad. But with the resolve and determination that would mark his future endeavors, he set about transforming himself into a physical specimen. This choice would come to define Bob's career and friendships and marriage — in essence, his entire life.
Bob and his schoolboy chum Gino (aka MuscleMag's "Johnny Fitness") trained in their early teens with jury-rigged weights. At first, they lifted parts of an old candy machine; later they constructed homemade weights from broomsticks and cement-filled biscuit tins. By the time he hit 17, Bob would've been nearly unrecognizable to his old friends. Gone was the stringy beanpole — in his place stood a highly muscled young man who had built a remarkable physique using a routine that put his inexhaustible energy to good use. As Gino would say, Bob spent half his young life upside-down, performing endless handstands.
Always a lover of muscle, the two teens would hitchhike the 200-plus miles round trip to London, sleeping in haystacks along the way, to take in the early Mr. Universe shows. Every spare shilling was funneled into the purchase of ultra-rare bodybuilding magazines with titles like Health and Strength and Mr. America — these, too, had to be bought in London, seeing as they weren't carried in the local shops.
After living in London for eight years and teaching art at the Tottenham Technical College, Bob moved to Canada in 1967, where he taught art and English for five years in Brampton, Ontario. But Bob decided he needed to share his love of bodybuilding with the masses, and to do so required a big risk on his part.
He quit his job, took his $480 in savings and decided to start a magazine.
The first person he called? His old buddy Gino. Despite the fact that Gino still lived in England, was married with a baby, he believed so fully in Bob that he and his family were on the next flight over the pond.
The first issue of Bob's flagship publication, MuscleMag International, was cut and pasted together on a kitchen table in Brampton. The magazine — envisioned as "A New Concept Magazine Dedicated to the Survival of the Fittest" — battled early setbacks (including a 110,000-copy order of the first issue … with no means of distribution!!) to become one of the premier bodybuilding publications in the industry.
Bob spent much of the '80s writing books. Of the 53 books he wrote, several were New York Times bestsellers. Whenever he wasn't writing, Bob could often be found in the studio — photography and painting were lifelong passions. His canvases are hung in the company headquarters in Mississauga, Ontario, and in the homes of private collectors around the world.
Not content to rest on his laurels, Bob branched out. He opened a string of 26 fitness stores and franchises and a fitness clothing line; all were eventually sold to concentrate on the core business of book and magazine publishing.
Spotting a need for publications dedicated to women's fitness, he built Oxygen into a category leader. Reps! Clean Eating and American Curves are other popular titles under the Robert Kennedy Publishing banner. His book imprint publishes the best-selling Eat-Clean Diet books, written by Tosca Reno.
Bob and Tosca, along with their children and pets, maintained a quiet residence in the Caledon Hills of Ontario, just north of Toronto. A tireless worker, he maintained regular hours in the office (and the gym) into his 70s. Bob could often be found at the light table going over magazine pages, or snapping photos down in the studio. Always a hands-on boss he penned the publisher's page for every magazine in his chain and trained his keen visual eye on each page of every publication; Bob made sure to put his personal "stamp" on every issue.
For his efforts just last month Bob was honored in Ohio at the Arnold Classic by Governor Arnold Schwarzenegger with the Lifetime Achievement Award, one of the sport's highest honors. A beloved fixture in the bodybuilding and fitness scene, Bob had thousands of friends and supporters. His love and devotion will be sorely missed.
Content courtesy of Robert Kennedy Publishing. Condolences can be left on his Facebook memorial page.