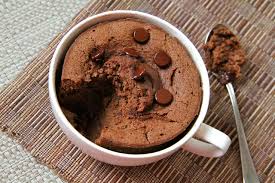 This is the perfect snack or cheat meal for when you're craving a warm, chocolaty treat that's fun, fast and easy to make in just 60 seconds plus it's actually healthy for you!
Ingredients
• 3 Tablespoon all purpose flour
• 3 Tablespoon coconut palm sugar
• 1/4 teaspoon baking powder
• Pinch of salt
• 3 Tablespoon unsweetened cocoa powder
• 3 Tablespoon almond milk
• 1 Tablespoon almond butter
• Sprinkle of dark semi-sweet chocolate chips
60 Second Cupcake Recipe Directions
Combine flour, coconut sugar, baking powder, salt and cocoa in a coffee mug and mix well. Add almond milk, and mix again. Make a well and drop in almond butter but do not mix it in. Top with a handful of chocolate chips. Pop into your microwave on high for 60 seconds. Done. Enjoy!
This Cupcake is just under 250 calories depending on the amount of chocolate chips & almond butter you actually add- Physique Bodyware USA